Geolocation
The moon and sun trajectories, moon phase, rise and set times can be automatically computed, provided your location on Earth is known.

You can choose your location by selecting country and a nearby city, manually enter latitude and longitude, or use you Mac's Location Services.

Location Services requires that your Mac has location services enabled, and that you allow iSnow to access that location, as it is privacy sensitive information.
Note that iSnow does not collect any data from you, nothing is shared, and your location neither.

To enable Location Services click the  menu top left in your screen, in the menu bar:

 -> System Preferences -> Security&Privacy -> Privacy (tab) -> Location Services -> Enable

Then, in the list of Apps below that, tick the iSnow checkbox.

It may also be necessary to switch on WiFi, for your location to be determined.

Again, your location is ONLY used for trajectory calculations, your location is not shared! Once a location is found the location detection is switched OFF.

You can allow iSnow to access your location just once: if a location is established that location is stored, and used from now on, so you can even disable Location Services.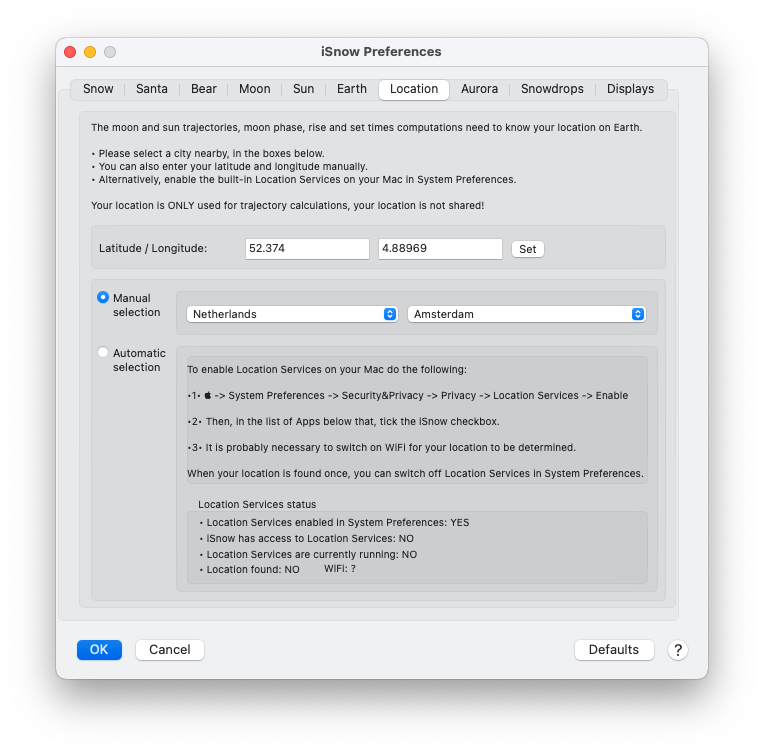 [top]
---
© 1984, 1988, 1990, 1993-1997, 2002-2007, 2012, 2017-2021 by Rick Jansen, all rights reserved
---
[Home page] [iSnow for macOS] Other products: [AutumnLeaves for macOS] [Hanami for macOS] [Xsnow]
---
Rick Jansen, rick.jansen@xs4all.nl