AutumnLeaves v1.0.0.16
Let autumn leaves gently fall on your desktop and on your windows and enjoy AutumnLeaves while you work! The leaves pile up on your windows and at the bottom of the screen while mushrooms and pumpkins (Halloween!) grow everywhere and chipmunks scutter around.

The last update was in 2001, so after 21 years this true classic is back on my desk, and hopefully on yours!
---
AutumnLeaves for Windows nestles itself in the Task Bar at the bottom of the screen with this icon:

Double-click it to show the settings, right-click to exit.
Click for the (old) userguide: [UserGuide for v1.0.0.9]
---
AutumnLeaves for Windows is available for €0,99 via the Microsoft Store (soon): click to buy AutumnLeaves for Windows

Privacy statement: Hanami for Windows does NOT collect any data, consequently, no data is shared with other people or parties.

Platform:Windows 10 Version: 1.0.0.16 Last updated: February 27th 2022
---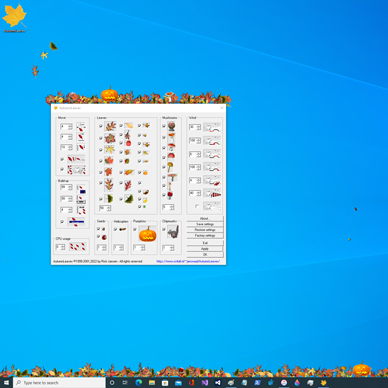 ---
The chipmunk animation is based on a video by C.T. Mandarino, see www.puffin.net for more chipmunks!
---
© 1999-2001, 2022 by Rick Jansen, all rights reserved.
---
[Home page] Snow: [Mac] [Win] [Linux] AutumnLeaves: [Mac] [Win] Hanami: [Mac] [Win] Moon: [Mac]
---
Rick Jansen, rick.jansen@xs4all.nl